PRESENTS:
CH Turretbank Nightfall - aka. Night
(HONORABLY RETIRED)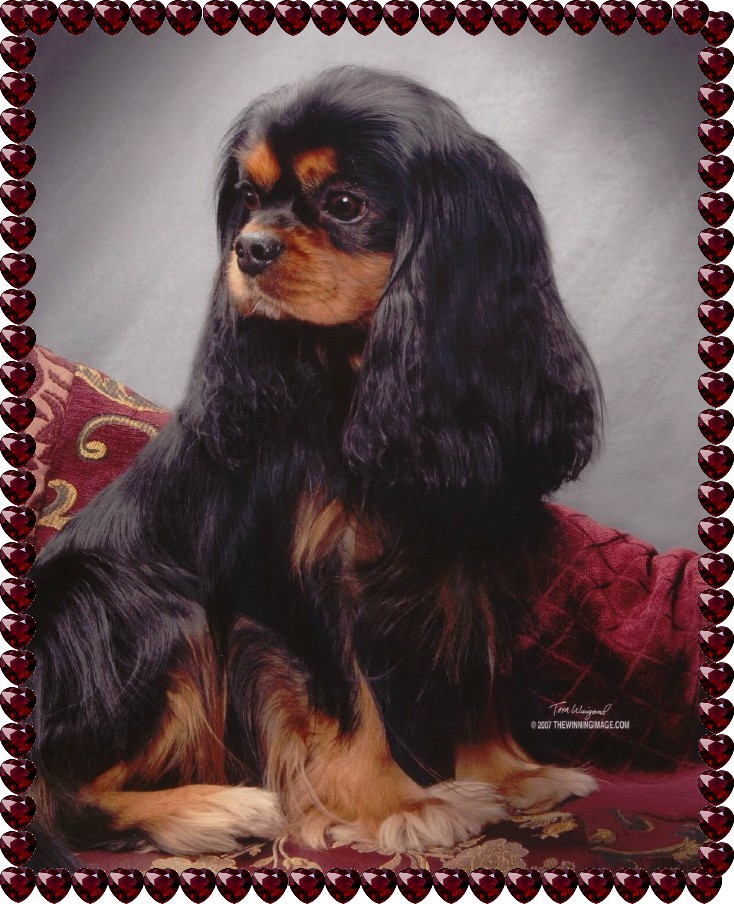 AKC and CKCSC, USA Registered.
Health Tested Annually and
Available at Stud to APPROVED "ladies" only.
Grand Champion Select, pointed.
Pedigree of CH Turretbank Nightfall

Date of Birth: October 10, 2003

PARENTS
GRANDPARENTS
G. GRANDPARENTS
G.G. GRANDPARENTS

SIRE:

Loranka's Sirius (B/T)

Pascavale Austin (R)

Eng CH Pascavale Louis (B)

Eng/CKCSC/AKC CH Telvara Karbon Kopy (B)
Pascavale Lulu
Woodstock Madonna at Pascavale (B/T)

Eng CH Harana Rockstar at Denstone (B/T)
Sorata Christina
Loranka's Starstruck (B/T)

Rosjestin Hiawatha Loranka (B/T)

Eng CH Harana Too Darn Hot (R)
Downsbank Magic Wish (B/T)
Loranka's Cherry Oh Baby (R)

Halghtons Romantacist at Loranka
Late Night in Motion (B/T)
DAM:

Turretbank Hot Lips (R)

Turretbank Deacon Brodie (B/T)

Turretbank Thomas McTavish (B/T)

Eng CH Lymrey Royal Scandal at Ricksbury (B)
Turretbank Hello Dolly
Turretbank Francesca (B/T)

Turretbank Masquerade
Clopsville Raffaella at Turretbank (B/T)
Turretbank Hot Socks (R)

Eng CH Harana Rockstar at Denstone (B/T)

Eng CH Rheinvelt Ringold Von Salador (B/T)

Harana Nutmeg
Turretbank Hot City Nights (R)

Leelyn Booblack At Rojobens (B/T)
Turretbank Toffee Apple (R)

Championships are AKC unless otherwise noted.